COAL MINE FATALITY - On Tuesday, March 21, 2000, a forklift operator was fatally injured in a surface haulage accident. The operator of the forklift was traveling North on the Scale House road to a storage building to pick up an electric motor. The forklift apparently slipped off the shoulder of the paved roadway which had a 9" drop to the gravel shoulder area. When the operator attempted to maneuver the forklift back onto the paved roadway, the forklift slid sideways and rolled over pinning the victim between the front left post of the falling object protection and the asphalt roadway.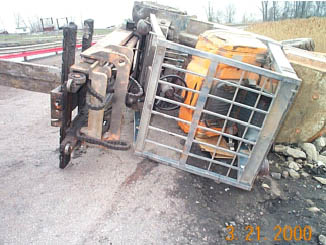 Best Practices
Always maintain control of mobile equipment that you are operating.


Be aware of surface conditions on which you are operating the mobile equipment.


Understand how to maneuver the forklift if presented with an off-roadway experience.


Conduct a mobile equipment safety check before operating equipment, and wear proper safety equipment.


Submit your own suggestion for a remedy to prevent this type of accident in the future.
Please specify if you wish your submission to be anonymous or whether your name may be used. Please include the year of the fatality and the fatality number.


This is the seventh fatality reported in calendar year 2000 in the coal mining industry. As of this date in 1999, there were eight fatalities.


---

The information provided in this notice is based on preliminary data ONLY and does not represent final determinations regarding the nature of the incident or conclusions regarding the cause of the fatality.


---
For more information:
MSHA's Fatal Accident Investigation Report