METAL/NONMETAL MINE FATALITY
- On April 25, 2000, a 54-year-old plant supervisor with 12 years mining experience was fatally injured at a crushed stone operation. The victim and the front-end-loader operator had been checking the loader, that was parked with the engine idling, to identify the source of leaking oil. After he closed the engine compartment cover, the operator returned to the cab of the loader. Without informing the operator of his intentions, the victim walked to his truck to retrieve a flashlight. When the victim returned, he immediately crawled under the front-end loader without communicating to the operator. The operator shifted into reverse and backed up, running over the victim.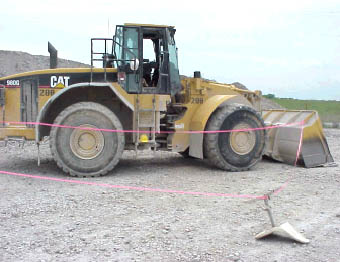 Best Practices
When working near large equipment, persons should make eye contact and communicate their intentions directly to the equipment operator.


Wheels should be chocked before persons position themselves underneath mobile equipment.


Submit your own suggestion for a remedy to prevent this type of accident in the future.
Please specify if you wish your submission to be anonymous or whether your name may be used. Please include the year of the fatality and the fatality number.
This is the 14th fatality reported in calendar year 2000 in the metal and nonmetal mining industries. As of this date in 1999, there were 16 fatalities reported in these industries. This is the eighth fatality classified as Powered Haulage in 2000. There were five Powered Haulage fatalities in the same period in 1999.

---------------
---
The information provided in this notice is based on preliminary data ONLY and does not represent final determinations regarding the nature of the incident or conclusions regarding the cause of the fatality.
---
For more information:
MSHA's Fatal Accident Investigation Report