METAL/NONMETAL MINE FATALITY
- On September 13, 2000, a 28-year-old skid-steer loader operator with 1 year and 4 months mining experience was fatally injured while doing clean up work with the loader. The victim stopped the loader, raised the safety bar and stood up, positioning his head under the hydraulic arm. The shift stick accidently was activated and the bucket fell, crushing him.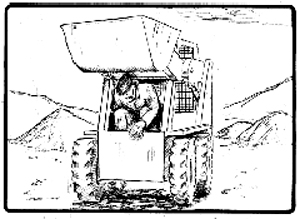 Best Practices
Pre-operational examinations should be conducted by the equipment operator prior to placing the equipment into operation.


Safety instructions and warning labels should be posted in the native language of the person(s) assigned to operate the equipment.


Operators should lower raised components and power down prior to exiting equipment.
Submit your own suggestion for a remedy to prevent this type of accident in the future.
Please specify if you wish your submission to be anonymous or whether your name may be used. Please include the year of the fatality and the fatality number.
This is the 38th fatality reported in calendar year 2000 in the metal and nonmetal mining industries. (On 8/8/2000, the Fatality Review Committee determined that fatal no. 8 on 2/21/2000 was not chargeable). As of this date in 1999, there were 35 fatalities reported in these industries. This is the 15th fatality classified as Powered Haulage in 2000. There were 14 Powered Haulage fatalities in the same period in 1999.

---------------
---
The information provided in this notice is based on preliminary data ONLY and does not represent final determinations regarding the nature of the incident or conclusions regarding the cause of the fatality.
---
For more information:
MSHA's Fatal Accident Investigation Report