COAL MINE FATALITY - On Tuesday, March 13, 2001, an electrical contractor, with 16 years of experience, was fatally injured when he contacted high voltage power while installing pole mounted capacitors. The victim and two co-workers had completed the installation of the capacitors, located approximately 900 feet from the mine substation, and installed a size 14 twisted pair wire from the substation to the capacitors to provide 120 volt control power for a capacitor switching device. The victim, two co-workers and three mine employees, were standing at the mine substation when the plug for the twisted pair wire began to smoke and arc. The victim, pulled the plug from the receptacle, picked up the plug to examine it and received a fatal electrical shock. A phase imbalance was caused when a defective switch on one of the capacitors failed to close and induced a current flow onto the frame of the capacitors and the ground wire extending down the pole to a ground rod. The frames were common with the neutral wire of the size 14 control power conductor. When the victim contacted the neutral wire, he became a parallel path for this current flow.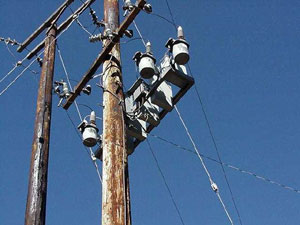 Best Practices
Only qualified persons should perform work on electric distribution circuits and equipment.
Capacitors should be installed according to manufacturers' specifications.
Capacitor frames should be effectively grounded.
Control power source should be located at the capacitor installation.
Submit your own suggestion for a remedy to prevent this type of accident in the future.
Please specify if you wish your submission to be anonymous or whether your name may be used. Please include the year of the fatality and the fatality number.
This is the second fatal accident, reported in calendar year 2001, in the coal mining industry. As of this date in 2000, there were six fatalities reported in the coal mining industry. This is the first fatal accident, classified as electrical, reported in the coal mining industry in 2001. At this time in 1999, there was one fatal accident, classified as electrical, in the coal mining industry.


---

The information provided in this notice is based on preliminary data ONLY and does not represent final determinations regarding the nature of the incident or conclusions regarding the cause of the fatality.


---
For more information:
MSHA's Fatal Accident Investigation Report