COAL MINE FATALITY
- On Thursday, April 19, 2001, a belt foreman, with over 22 years of mining experience, was fatally injured in a machinery accident. The victim was making an examination of a 54" belt conveyor drive take-up unit while the belt conveyor was still in motion. The victim's left arm was detached by the rotating rollers of the belt conveyor take-up unit. There were no eyewitnesses to the accident.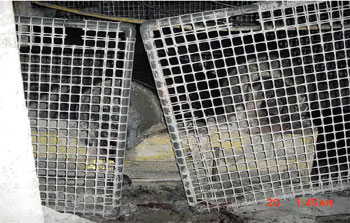 Best Practices
Never work or perform maintenance on moving machines.
Always lock and tag out electrical equipment prior to working on machinery.
Repairs or maintenance shall not be performed on machinery until the power is off and the machinery is blocked against motion.
Exposed moving machine parts which may be contacted by persons, and which may cause injury to persons shall be guarded.
Submit your own suggestion for a remedy to prevent this type of accident in the future.
Please specify if you wish your submission to be anonymous or whether your name may be used. Please include the year of the fatality and the fatality number.
This is the 7th fatal accident, reported in calendar year 2001, in the coal mining industry. As of this date in 2000, there were nine fatalities reported in the coal mining industry. This is the second fatal accident, classified as Powered Haulage, reported in the coal mining industry in 2001. At this time in 2000, there were three fatal accidents, classified as Powered Haulage, in the coal mining industry.


---
The information provided in this notice is based on preliminary data ONLY and does not represent final determinations regarding the nature of the incident or conclusions regarding the cause of the fatality.
---
For more information:
MSHA's Fatal Accident Investigation Report