METAL/NONMETAL MINE FATALITY
- On February 16, 2001, a 38-year-old maintenance mechanic with 16 years mining experience was fatally injured at a surface gold mine. The victim and a co-worker were performing maintenance on the transmission of a haulage truck that was parked outside the shop. The bed of the truck was raised, the engine was running, and the wheels were chocked. The truck suddenly lunged forward and crashed through the shop door. The victim was struck by falling door panels.
BEST PRACTICES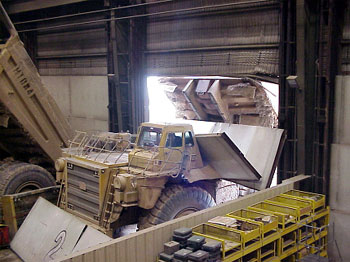 Mobile equipment should not be left unattended unless the parking brake is set.
Manufacturer's guidelines for repair should be consulted and followed.
Submit your own suggestion for a remedy to prevent this type of accident in the future.
Please specify if you wish your submission to be anonymous or whether your name may be used. Please include the year of the fatality and the fatality number.
This is the third fatality reported in calendar year 2001 in the metal and nonmetal mining industries. As of this date in 2000, there were seven fatalities reported in these industries. This is the second fatality classified as Powered Haulage in 2001. There were four Powered Haulage fatalities in the same period in 2000.


---
The information provided in this notice is based on preliminary data ONLY and does not represent final determinations regarding the nature of the incident or conclusions regarding the cause of the fatality.
---
For more information:
MSHA's Fatal Accident Investigation Report