METAL/NONMETAL MINE FATALITY
- On June 13, 2001, a 32-year-old miner with 5 years mining experience was fatally injured at an underground gold mine. The victim and a co-worker were loading a face round when a ground fall occurred.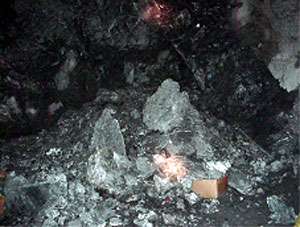 Best Practices
Ground conditions should be tested, as well as visually examined, prior to commencing work and as often as necessary.



Ground conditions that create a hazard to persons should be taken down or supported before other work or travel is permitted in the affected area.
Submit your own suggestion for a remedy to prevent this type of accident in the future.
Please specify if you wish your submission to be anonymous or whether your name may be used. Please include the year of the fatality and the fatality number.
This is the 17th fatality reported in calendar year 2001 in the metal and nonmetal mining industries. As of this date in 2000, there were 21 fatalities reported in these industries. This is the fourth fatality classified as Fall of Roof/Back in 2001. There were no Fall of Roof/Back fatalities in the same period in 2000.


---
The information provided in this notice is based on preliminary data ONLY and does not represent final determinations regarding the nature of the incident or conclusions regarding the cause of the fatality.
---
For more information:
<!="/FATALS/2001/FTL00M17.HTM">
MSHA's Fatal Accident Investigation Report - Not Available Yet