COAL MINE FATALITY
- - On Wednesday, February 20, 2002, a 53-year old roof bolting machine operator, while helping on the continuous mining machine, was fatally injured when he was struck by rock from an unintentional roof fall. The victim was helping the operator of the continuous miner tram the machine into the intersection after completing the last lift of the right pillar block located in the No.4 Entry of the 002-0 section. The roof in the intersection fell with little or no warning, resulting in fatal injuries to the roof bolt machine operator, and serious injuries to the mining machine operator. The fall, consisting of unconsolidated rock ranging from approximately 2 to 10 feet thick, 30 feet long and 30 feet wide, covered the continuous mining machine and partially covered a coal hauler located behind the continuous mining machine.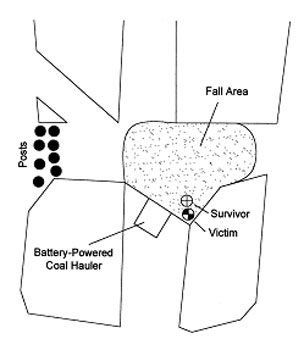 Best Practices
Know and follow the provisions of the approved Roof Control Plan. Take additional measures to protect all persons if unusual hazards or conditions are encountered.
Always examine the mine roof properly in your work area.
Conduct proper pre shift and on shift examinations in all areas prior to mining.
Always be alert for changing roof conditions.
Never work or travel under unsupported roof.
Submit your own suggestion for a remedy to prevent this type of accident in the future.
Please specify if you wish your submission to be anonymous or whether your name may be used. Please include the year of the fatality and the fatality number.
This is the 6th fatal accident reported in calendar year 2002 for the coal mining industry. As of this date in 2001, there was one fatality reported for the coal mining industry. This is the third fatal accident classified as a roof fall accident in 2002. At this time in 2001, there were no fatal accidents classified as roof fall accidents for the coal mining industry.


---
The information provided in this notice is based on preliminary data ONLY and does not represent final determinations regarding the nature of the incident or conclusions regarding the cause of the fatality.
---
For more information:
MSHA's Fatal Accident Investigation Report