COAL MINE FATALITY
- On Wednesday, July 10, 2002, a 44-year old mechanic/ truck driver, employed by an independent trucking company, was fatally injured while performing repair work on a coal haul truck. The transmission had become locked in gear and the mechanic was summoned to repair the truck. While attempting to free the transmission, the mechanic positioned himself under the truck to remove the drive shaft. When the drive shaft was removed, the truck rolled forward crushing the mechanic under the right rear set of tandem wheels. The parking brake had not been set and the truck had not been blocked to prevent movement (blocking shown was provided after the accident).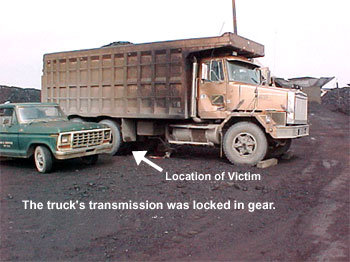 Best Practices
Always set the parking brakes and block machinery against motion before repairs are performed.



Know and follow safe work procedures before beginning repairs.



Examine work areas before starting work.
Submit your own suggestion for a remedy to prevent this type of accident in the future.
Please specify if you wish your submission to be anonymous or whether your name may be used. Please include the year of the fatality and the fatality number.
This is the 17th fatal accident reported in calendar year 2002 for the coal mining industry. As of this date in 2001, there were ten fatal accidents reported for the coal mining industry. This is the sixth fatal accident classified as "Powered Haulage" in 2002. At this same time in 2001, there were two fatal accidents in the coal mining industry classified as "Powered Haulage."


---
The information provided in this notice is based on preliminary data ONLY and does not represent final determinations regarding the nature of the incident or conclusions regarding the cause of the fatality.
---
For more information:
MSHA's Fatal Accident Investigation Report