COAL MINE FATALITY
- On Thursday, December 26, 2002, a 48-year-old dragline oiler was fatally injured in a machinery accident. The victim had finished his scheduled shift and left the dragline pit at approximately 6:30 p.m. The victim returned to the dragline, without contacting anyone at the pit. At approximately 7:30 p.m. the dragline operator received a call requesting the victim's whereabouts. The dragline operator located the victim's vehicle. The dragline crew searched for the victim but could not locate him. The dragline continued to work as the company searched for the victim. At approximately 3:00 a.m. on 12/27/2002, the dragline operator saw the victim near the edge of the digging face of the cut. The victim had been struck by the right shoe of the dragline.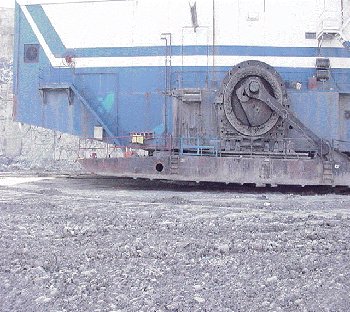 Best Practices
Notify the equipment operator before getting on or off equipment.


Be certain that all persons are clear before starting or moving equipment.


Provide illumination sufficient for safe working conditions.


Notify equipment operators before entering their work area.


Keep means of access to work areas clear of stumbling or slipping hazards.


Communicate to make others aware of your location.
Submit your own suggestion for a remedy to prevent this type of accident in the future.
Please specify if you wish your submission to be anonymous or whether your name may be used. Please include the year of the fatality and the fatality number.
This is the 25th fatality reported in calendar year 2002 in the coal mining industry. As of this date in 2001, there were 42 fatalities. This is the 4th fatality classified as Machinery in 2002. At this time in 2001, there were 4 Machinery coal fatalities.


---
The information provided in this notice is based on preliminary data ONLY and does not represent final determinations regarding the nature of the incident or conclusions regarding the cause of the fatality.
---
For more information:
MSHA's Fatal Accident Investigation Report