METAL/NONMETAL MINE FATALITY
- On July 2, 2002, a 51-year-old laborer with 21 weeks mining experience was fatally injured at a surface crushed stone mine. He was removing a support structure on a portable conveyor. The conveyor was positioned on a hydraulic jack supported by two wooden blocks when it shifted and fell crushing the victim.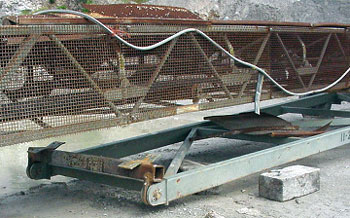 Best Practices
Train all personnel in hazard recognition and safe work procedures.
Ensure that blocking material is competent, substantial, and adequate to support and stabilize the load.
Ensure that equipment is properly blocked to prevent accidental movement.
Never block with steel on steel or depend on hydraulics to support a load.
Submit your own suggestion for a remedy to prevent this type of accident in the future.
Please specify if you wish your submission to be anonymous or whether your name may be used. Please include the year of the fatality and the fatality number.
This is the 19th fatality reported in calendar year 2002 in the metal and nonmetal mining industries. As of this date in 2001, there were 18 fatalities reported in these industries. This is the eighth fatality classified as Powered Haulage in 2002. There were nine Powered Haulage fatalities in the same period in 2001.


---
The information provided in this notice is based on preliminary data ONLY and does not represent final determinations regarding the nature of the incident or conclusions regarding the cause of the fatality.
---
For more information:
MSHA's Fatal Accident Investigation Report