PDF Version

COAL MINE FATALITY - On Tuesday, September 09, 2003, a 73-year old bulldozer operator with 42 years of mining experience was fatally injured when the Caterpillar D8-L bulldozer he was operating backed over a 32-foot highwall. The accident occurred as the bulldozer operator was back dragging a strip mine bench in preparation for drilling operations. At the time of the accident, visibility at the mine site was extremely limited due to thick fog. There were no witnesses to the accident.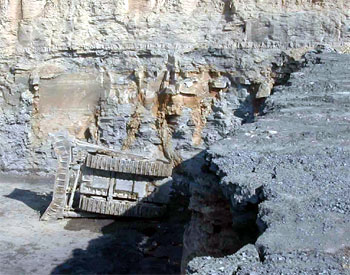 Best Practices
Be familiar with your work environment at all times.
Implement safety precautions to address adverse weather, lighting, and visibility conditions (provide light towers and ensure wipers, washers, and defrosters are working properly and that window cleaning supplies are readily available).
Ensure that mobile equipment operators wear seatbelts when moving equipment.
When operating in close proximity to drop offs/edges, always keep the blade between you and the edge.
Submit your own suggestion for a remedy to prevent this type of accident in the future.
Please specify if you wish your submission to be anonymous or whether your name may be used. Please include the year of the fatality and the fatality number.
Initially, evidence indicated that the victim may have lost consciousness prior to backing over the highwall. However, based on the findings of the medical examiner, this fatality was determined to be chargeable to the coal mining industry. This is the 30th fatality charged to the coal mining industry in calendar year 2003.


---
The information provided in this notice is based on preliminary data ONLY and does not represent final determinations regarding the nature of the incident or conclusions regarding the cause of the fatality.
---
For more information:
MSHA's Fatal Accident Investigation Report