From the Assistant Secretary's Desk —
Fatal alert: six miner deaths in less than a month - February 20, 2013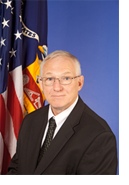 Yesterday, the sixth coal miner in less than one month was killed in an accident. Four of the six deaths have occurred in West Virginia.
All of us who oversee mine safety and health in West Virginia – and, indeed, all the mines throughout this nation – must take immediate action to alert the mining community to this escalating problem.
We at MSHA take this disturbing trend extremely seriously. I have directed MSHA personnel – inspectors, supervisors and managers – to travel throughout the state of West Virginia to alert miners, miners' representatives, supervisors and operators to this alarming development and to distribute detailed information about these fatalities and ways to prevent them. MSHA personnel will address miners directly, discussing these fatalities and reminding them of safe workplace procedures and practices. MSHA inspectors will also discuss these fatalities and their prevention with mine operators, also taking the opportunity to remind them of policies and procedures they should use to keep their workplaces safe and healthful, including conducting proper mine safety examinations to find and fix hazards, and making sure miners are properly trained to do the jobs they are assigned, particularly activities not part of their normal routine. The nature of these tragedies raise special concerns about the quality of training, work practices, how work activities are being supervised, and highlight the need for proximity detection to prevent crushing and pinning accidents.
Attached is an alert describing these recent fatalities, along with best practices to prevent them, to place on our website and distribute to every coal mine operator in the United States.
We have just finished up two of the safest years in the mining industry in the history of this country. The deaths of six miners over the last month are completely unacceptable to the mining community and to MSHA. MSHA intends to take whatever action is necessary to ensure that all miners remain safe and healthy in America's mining workplaces.
— Coal Fatal Alert 2013 (pdf)