From the Assistant Secretary's Desk —
Commemorating the 35th Anniversary of the 1977 Mine Act — Historic Legislation that Saves Lives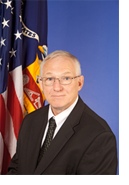 On March 9th, we commemorate the 35th anniversary of the implementation of the 1977 Federal Mine Safety and Health Act. Like previous mining laws, this legislation was born out of mining injuries, illnesses, deaths and terrible mining disasters. The November 20, 1968 Farmington No. 9 Mine disaster in West Virginia that claimed 78 miners' lives led to the passage of the Federal Coal Mine Health and Safety Act of 1969. That law forever transformed occupational safety and health in the United States.
Following that legislation, mining tragedies continued. On March 9, 1976, 15 men died in the first of two explosions at the Scotia Mine. Two days later, 11 more men were killed at the mine. Among those who died were three Federal mine inspectors. A few years before that, on May 2, 1972 at the Sunshine silver mine in Idaho, a fire engulfed the mine and ninety-one workers lost their lives from smoke inhalation and carbon monoxide poisoning. These metal/nonmetal miners were not protected by the 1969 law.
Congress decided that more needed to be done to end tragic mining disasters and to provide metal/nonmetal miners with the same protections as coal miners – and enacted the 1977 Federal Mine Safety and Health Act. Its effective date was March 9, 1978 – two years to the day after that terrible tragedy at Scotia.
That law saved lives
In 1977, there were 273 mining fatalities in the United States. Last year, we brought that number down to 35. Between 1977 and 2011, the fatality rate dropped from .0645 to .0114, a decrease of 82%. In 2011, we saw the lowest fatal injury rates in history, and 2012 preliminary data show those numbers to be better than 2011 and a historic low. Simply stated, the 1977 Mine Act is an act that saves lives!
More information about this new law that increased protections for the nation's miners.