A promise kept on behalf of all coal miners who have suffered from black lung disease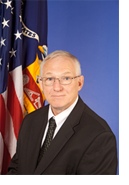 A dear friend of mine, Mike South, became a miner for the reasons many of us did – to gain a foothold into the middle class, and to provide for his family. Mining is a good job – an honorable occupation. It is a fundamental piece of the American economy that still produces a large segment of our nation's electricity and a multitude of manufactured goods.
While a miner, Mike found out he had the black lung disease from coal mine dust exposure. Like so many others, he would be robbed of the opportunity to work, to retire, to enjoy the things that other people experienced. Mike had to leave the mines due to his health and walked around with an oxygen bottle strapped to him, fighting for every breath. Mike was fortunate enough to get a double lung transplant to replace his diseased lungs, but it wasn't enough. He died a few months later.
Mike's story is just one of many. Each of these victims chose to be a coal miner for what it gave to their family, and none deserved what it took away. Until you've walked in the shoes of these miners and their families – experienced the hardship, the grief, the loss - you don't fully understand black lung.
Black lung is caused by prolonged exposure to respirable coal dust. It's a terrible disease that destroys the respiratory system, and leaves workers fighting just to catch their breath. Many people think that it is a disease of the past, but they couldn't be more wrong. Since 1968, there have been more than 76,000 black lung related deaths, and more than $45 billion dollars in federal compensation benefits have been paid out to coal miners disabled by black lung and their survivors. Furthermore, evidence indicates that miners continue to get the disease, including younger miners.
It is a disease that should have been eradicated long ago, yet it persists. Investigations into the cause of the April 5, 2010, Upper Big Branch disaster found that 17 miners who lost their lives in the explosion had black lung, including young miners with just a few years working underground.
In December 2009, MSHA launched the "End Black Lung – Act Now" campaign to educate the mining community about steps we can take to prevent any more miners from becoming victims. Rulemaking was a major component of this campaign, and, on April 23, Secretary of Labor Perez announced the release of a final rule to lower miners' exposure to respirable coal mine dust in all underground and surface coal mines. You can learn all about the new rule on our webpage, www.msha.gov/endblacklung.
Black lung is incurable – but it is also preventable. This rule aims to prevent it.
The new rule is the result of years of work that included collaboration between government, labor, industry and input from stakeholders and the public. It will better protect miners in several key ways:
•It reduces dust exposure by closing loopholes and improving sampling practices to better reflect actual working conditions and protect all miners from overexposures;
•Increases sampling and makes use of cutting-edge technology developed for the mining environment to provide real-time information about dust levels, allowing miners and operators to identify problems and make necessary adjustments instead of letting overexposures languish.
•Requires immediate corrective action when a sample finds an excessive concentration of dust;
• Lowers levels of miners' exposure to respirable coal mine dust; and
•Has a common sense phase-in over a 2-year period to give the industry the time it needs to adjust to the new requirements, acquire monitoring equipment, and obtain compliance assistance from MSHA.
This rule holds mine operators accountable for implementing and maintaining necessary dust controls to protect miners from black lung disease.
Over the coming weeks, MSHA will meet with labor and industry stakeholders throughout the coal fields and provide technical assistance and support as we implement each phase of the new rule.
Congress had it right in 1969 - to prevent new black lung cases and prevent further development of black lung among miners who already suffer. On behalf of Mike South and all the other victims of the disease, we are finally delivering on that promise.