From the Assistant Secretary's Desk — MSHA-IMCC MOU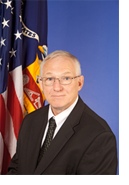 I am pleased to announce that MSHA has signed a Memorandum of Understanding (MOU) with the Interstate Mining Compact Commission (IMCC) to facilitate coordinated and timely communications that promote and protect the mining industry's most precious resource, miners.
With the signing of this MOU, MSHA and the member states of the IMCC pledge to consult, coordinate and cooperate effectively and efficiently in carrying out our duties to protect and preserve the safety and health of miners in this country.
The Interstate Mining Compact Commission is an organization comprised of Governors of member states who are concerned with mining regulation. The IMCC gives the member states a forum for action on and communication about mining and related issues. The Commission is intended to foster development and production of the mineral wealth of each member state through effective cooperative regulatory efforts that both protects the health and safety of the nation's miners and protects and preserves human health and the environment.
The Mine Safety and Health Committee of the IMCC was established in 1996 to serve as a liaison between MSHA and the IMCC on issues surrounding miner safety and health.
Good communication between Federal agencies and state governments is critical to improving mine safety and health. The increased Federal-State cooperation that comes from this MOU will help us encourage a culture of safety in the mining industry and encourage operators to live up to their legal obligations and moral responsibility to provide safe and healthful workplaces for their workers. It will encourage operators to fully comply with state and federal regulations and encourage them to provide effective training for their miners.
Through this collaboration, member states of the IMCC and MSHA will increase governmental efficiency and provide for an enhanced health and safety environment in our Nation's mines. We expect the MOU to help us develop more effective training through state-administered programs, and engage in better intergovernmental communications and coordination that will minimize duplication of efforts and improve consistency of enforcement of standards. This MOU will also help us share information on Federal rules and policies that may impact state mine safety and health regulatory programs and proposed state rules, regulations and policies. In addition, the MOU will provide a vehicle for sharing of information on unsafe mining practices or willful violations of mine safety and health laws.
Some of the areas for collaboration and coordination from which we will benefit include:
Accident investigation and reporting,
Emergency notification and response,
Mine rescue teams and training,
Certification, decertification, and qualification of key miner positions--foreman, examiners, blasters and electricians,
Coal waste impoundment safety;
Underground mine mapping;
Mine plan approvals; and
Liaisons with family members and the public following mine accidents.
This Memorandum of Understanding is in the best interest of miners' safety and health, and I look forward to seeing the benefits of this cooperative relationship reflected in improvements in mine safety and health in our Nation.