Respirable Coal Mine Dust Rule in Phase II – The Rule is Achieving Goal of Lowering Miners' Exposure to Dust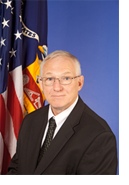 February 1, 2016
Today, the second phase of MSHA's landmark respirable coal mine dust rule goes into effect, adding increased safeguards for coal miners to further protect them from overexposure to unhealthy levels of respirable coal mine dust. Coal mine operators will now be required to collect an increased number of respirable dust samples to prevent overexposure to the unhealthy coal mine dust that causes coal miners' pneumoconiosis, or black lung. In underground coal mines for high exposure occupations, 15 valid samples must be obtained every quarter, followed by 15 samples for other types of occupations. This sampling regimen replaces the previous requirement of five samples every two months.
For the first time, underground operators will be required to use the cutting-edge Continuous Personal Dust Monitor (CPDM) that measures dust in real time and lets miners know the amount of coal mine dust they are exposed to throughout their shift so, if necessary, immediate actions can be taken to avoid an overexposure on that shift. In addition, in Phase II, operators must post the results of CPDM sampling within 12 hours of the sampled shift, and miners with evidence of black lung must be given a copy of the sample data within the first hour of the miner's next work shift.
The rule is the culmination of MSHA's End Black Lung-ACT NOW Campaign---which beginning in late 2009 with enhanced enforcement and education---refocused attention on the tragedy of black lung that has caused or contributed to the deaths of 76,000 coal miners since 1969. Over the past 45 years, more than $45 billion in federal compensation has been paid as a result of this disease.
Since the End Black Lung-ACT NOW campaign began, there have been significant improvements as the yearly average concentration of respirable dust for the dustiest occupations dropped each year to new lows. Last year, under Phase I of the new rule with its increased requirements, including more stringent sampling, and mandates to have respirable dust controls in place to keep dust levels down, the yearly average dropped to its lowest levels ever at .64 milligrams per cubic meter of air (.64mg/m3). This is far below the current 2.0 standard and even below the 1.5 standard that will go into effect on August 1, 2016.
The drop in respirable coal mine dust levels is not the only improvement in the air that miners breathe. There has been a dramatic decrease in coal miners' exposure to respirable crystalline silica dust, with rates dropping to nearly half of those recorded in 2009. Like black lung, silicosis is a debilitating and potentially deadly black lung disease. With the new respirable dust rule in place, the yearly average of silica was the lowest ever in 2015 at 27.8 micrograms per cubic meter of air (µg/m3 ).
The respirable coal mine dust rule was designed to achieve lower exposures and it is doing just that. Since the final rule went into effect on August 1, 2014, 87,534 dust samples have been collected from 1,363 surface and underground coal mines by MSHA and mine operators and nearly 99 percent of those samples met compliance levels.
Unfortunately, black lung is not a disease of the past ---far from it. Since the 1990s, the incidence of black lung being diagnosed has doubled among long-tenured coal miners and even younger miners are getting the disease. In fact, autopsies conducted on the 29 coal miners who died in the explosion at the Upper Big Branch mine in West Virginia in 2010 showed that 17 of 24 miners who had sufficient lung tissue to be examined had evidence of black lung. Five of these miners had worked in coal mining for 10 years or less.
Other evidence shows miners are still getting the disease. Since 2010, when MSHA proposed the rule, NIOSH has diagnosed the disease in nearly 500 working miners in 18 states. Since 2010, coal miners have filed about 15,550 new claims for black lung benefits with the Federal Office of Workers Compensation Programs.
This all shows that more needed to be done to prevent these respiratory diseases and fulfill the promise contained in the 1969 Federal Coal Mine Health and Safety Act (Coal Act), that:

working conditions in each…coal mine [be] sufficiently free of respirable dust concentrations in the mine atmosphere to permit each miner the opportunity to work…for the period of his entire adult working life without incurring any disability from pneumoconiosis or other such occupation-related disease during or at the end of such period.

On January 25, 2016, the U.S. Court of Appeals for the 11th Circuit denied a challenge to the dust rule brought by two separate groups representing the coal industry. The Court found that MSHA acted within its statutory authority in promulgating the dust rule, and that the dust rule reflected reasonable agency decision making based on an expansive rulemaking record. This strategically crafted rule is both feasible and necessary to protect miners from this disease.
The End Black Lung-ACT NOW campaign, including Phase I of the new respirable coal mine dust rule, have already produced results that are good for our nation's miners. With the implementation of Phase II today and Phase III on August 1, 2016, which lowers the dust concentration from 2.0 to 1.5 milligrams per cubic meters of air, we will have put in place protections for mines from black lung disease.
As we did in advance of Phase I, MSHA Coal and its health staff have been out on the road preparing the mine industry and offering assistance to operators so they will be ready to comply with Phase II provisions.
My very first initiative when I arrived at MSHA was to launch the End Black Lung-ACT NOW campaign. I believed then, as now, that miners deserve the right to go to work and come home free of injury and illnesses after each shift, and at the end of their careers, not be afflicted with the black lung disease that has claimed thousands of lives. Congress had the same belief and expectation in 1969 when it enacted the Coal Act, placing responsibility on the coal industry to end the disease.
This respirable coal dust rule is delivering on that Congressional commitment. The enormous death and suffering caused by black lung can be tolerated no longer--- it is time to end this terrible disease. Those who mine the nation's coal deserve no less.